Pirate Ship Playhouse (Ship Ahoy! little mates)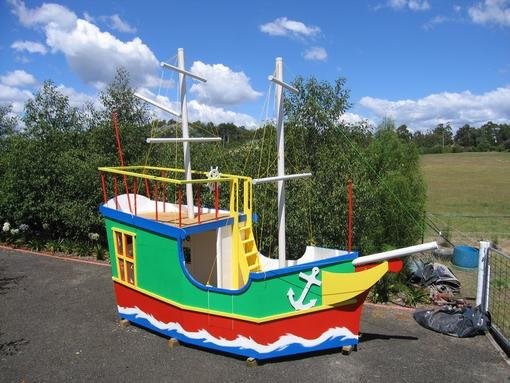 Children nowadays seem very lucky to have more choices with regard to outdoor playhouses. There are a lot of themed outdoor playhouses available anytime. I guess, gone are the days when bed sheets or old-beaten boxes were used for a joyful outdoor playhouse experiences.
One of the most popular among boys is a pirate ship playhouse. Boys are so obsessed of pretend playing as a pirate in their own outdoor pirate ship playhouse.
There are a lot of variation for an outdoor pirate playhouse. It can come as: a pirate ship wooden playhouse, plastic pirate ship playhouse, a pirate tent outdoor playhouse, a cardboard pirate ship playhouse and so much more.
See and know the latest wonderfully made pirate ship outdoor playhouses.
Plastic Pirate Ship Playhouses
This Dora plastic pirate ship playhouse is so awesome that many had already patronized it. It's currently out of stock in the market but many are hoping it will be available again soon.
Be ready and up for a pirate adventure with Dora & Diego! This imaginative adventure fun comes in to reality with even pirate costumes included! This cool plastic pirate playhouse comes with a large 2' x 3' Dora pirate poster, an interactive spinning Dora/Diego porthole. Even has Diego's spotting scope that rotates 360 degrees. Perfect with an open design that is visible to parents. It only takes 20-minutes to assemble. What a treat!
The kids simply adore this playhouse that comes with cute costumes too. The steering wheel and the telescope suit it well. It's very durable and this outdoor playhouse will live up to your expectations.
This is another popular kids pirate ship playhouse. It's a brightly colored and suited for pre-school aged kids. It has a moveable steering wheel, a pirate flag, a parrot plus an anchor. A positive feature is that it's very easy to set-up. This can be used both indoor and outdoor.
There is a playhouse pirate ship inspired with a climber and slide for toddlers.
This Pirate's cove climber features a nautical and pirate details to add to the imaginative play of the kids. The slide also doubles as the plank of the pirate ship. There is a steering wheel attached for the young pirates. There is a lower deck to add excitement for the pretend play. This structure is 100% safety proof and is made of high quality plastic.
Wood Pirate Ship Playhouse
First on our list of pirate ship wood playhouse is this super cute pirate sandboat. This is a very unique kind of a pirate ship inspired playhouse.
This pirate sandboat is so worth it because this is so fun. It makes it so that the roof deck is like a giant play pen, where kids can play, and adults can relax. It has two convenient storage to keep the buckets, shovels and other toys. It has a very attractive and colourful over-all look. The blue canopy is fitting for that perfect shade every play time. Multiple kids can play in this large enough playhouse. Made from wood and definitely durable.
Kids will find it hard to resist kid pirate ship playhouse!
There are not much outdoor wooden pirate ship playhouse available commercially. There are companies though that offers made to order wood pirate ship playhouses. They range from small pirate ship playhouse, medium sized ones and the large childrens pirate ship outdoor playhouse. We will show you these made to order and custom built ones.
Small Pirate Ship Playhouse
There are three options for the small pirate ship playhouse. For the first one, it includes: 12' swing beams with two swings, a wave slide and a ship's wheel. This will cost around $3,200. They have the second option which is about $3,600 that includes: 12' swing beams with two swings, a wave slide and a ship's wheel, rock climbing wall, telescope and a wooden gangway. The last option for a small pirate ship playhouse is around $3,900 that has the following: : 12' swing beams with two swings, a wave slide and a ship's wheel, rock climbing wall, telescope and a wooden gangway, and a telephone.
http://www.woodenoutdoortreasures.com/our-family.html
Medium Pirate Ship Playhouse
The medium sized one begin at around $4,000. This has the following features: 12' swing beams with two swings, a wave slide and a ship's wheel. The next one costs $4,500 and has these inclusions: 12' swing beams with two swings, a wave slide and a ship's wheel, rock climbing wall, telescope and a wooden gangway. The third of the medium sized one will costs around $4,900. This also comes with: 12' swing beams with two swings, a wave slide and a ship's wheel, rock climbing wall, telescope and a wooden gangway, and a telephone.
Large Pirate Ship Playhouse
The prices start at $5,500 with the same inclusions as above's first option. Coming in next is priced at $5,500 and include the same features of the second option above too. The last one is pegged at $5,800 with the same features as the third option above but with an additional tube slide.
Cardboard Pirate Ship Playhouse
There are a variety of pirate ship playhouse made of cardboard. The one below also teaches to kids to be very creative.
This corrugated playhouse also has four markers for coloring and decorating. It has a double lock tabs to ensure stability and durability.
It used 32ECT strong boards and it can be easily folded for storage. It has no sharp edges for insured safety. It can be used outdoor in the summer but it's more appropriate as an indoor pirate ship playhouse.
A tip is you can paint it with water based paint if you wish to.
Tent Childrens Pirate Ship Playhouse
One more variant of a pirate ship playhouse for sale are these indoor and outdoor boy's pirate ship play tents.
This play tent is light weight and durable. It brings tons of fun and captures the kids imagination whether they're fighting with Captain Jack Sparrow or Black Beard. It also makes great fun time play when you give the kids a book or crayons and color books. A great little play tent hideout for kids.
The play tent is designed with imaginative viking patterns, 6 flags allow kids to DIY write what they like. Tent can accommodate 2-3 kids. It has ample space for children to have fun in it. The kids tent offer your kids a private space to play with his friends or toys. It's safe for the kids to play in. It is not only suitable to use in preschool, day care, kids room and other indoor place, but also can be used in outdoor plays.

There are also over the top wooden pirate ship playhouses for sale. If money is not a question or concern, then there are luxurious pirate ships playhouses available for your kids.
Luxury Pirate Ship Playhouse
All the children will love role playing in this expensive $52,000 high quality pirate ship. One of the most expensive ever online. This wooden pirate ship playhouse for sale comes complete with a captain's quarters, upper and lower decks, and a handcrafted crow's nest for spotting anything on the high seas. Totally a luxurious pirate ship with a captain's quarters has enough room for up to four adults. It features leatherette-cushioned benches that double as sleeping bunks, a working door, waterproof recycled composite roof and ample storage space. Other outstanding features include 17 windows and peepholes, cannonball-riddled mast and rigging, carved wolf figurehead and ornate helm and rudder. This ship is constructed with the use of mahogany and steam curved poplar planks and has a special offbeat paint finish. It even has a signature Douglas fir structural subflooring with warp- and splinter-resistant composite decking and a Douglas fir structural framed walls.
A good option too is a DIY outdoor pirate ship playhouse. This is a cheaper way to build a pirate ship playhouse. It will save you thousands of dollars by doing so. There are also a pirate ship playhouse pre-kit you can purchase online.
How to Build a Pirate Ship Playhouse
Here is an easy guide to be able to build that dream pirate ship playhouse for your kid.
Have a plan or a layout ready. Decide on the perfect size of the playhouse.
Have all the materials ready. Make sure it is complete.
Start with the bottom deck.
Proceed to the second deck.
Make the bow.
Time for the framing and the skin.
Do the clubhouse next.
It's the gangplank and the deck to make now.
Go to the mast now.
Do the finishing touches.
For the detailed step-by-step instructions, please check the link below.
https://www.instructables.com/id/How-To-Build-a-Pirate-Ship-Playground/
There are popular accessories that are always present in every pirate ship playhouse. They are also sold individually for you need replacements or if you want to just change the existing ones.
Pirate Ship playhouse Accessories
This pirate ship wheel for a playhouse for your DIY project or replacement. It's the largest ship wheel available today. It makes your pirate ship more realistic. It's made from high grade durable plastic. This includes the ship wheel, mounting kit, and installation instructions. It has an easy do it yourself installation for quick backyard fun. They are the modernized versions of the popular, best-selling classics, but with improved safety and play functionality.
What is a pirate ship without that pirate flag? Made from 100% durable polyester. The banner header assembly is reinforced with a double brass grommets to ensure the durability of the banner. The dye of this banner has been processed for UV fade resistant, it appears bright and has vivid colors. It can withstand a long time without fading. It comes around with double stitching process and is anti-wear.
To complete that perfect imaginative play, here is a full set of pirate's clothes with a binoculars included. I chose to suggest this because aside for the binoculars it includes a pirate's get-up for a very reasonable price.
This set comes with: Pirate vest, sword inflate, binoculars, and an eye patch. No pirate play time is complete without these gears! This set includes everything you need to go on your exciting voyage! This will enhance your kids pretend play and will encourage them to put their imagination to practice as they set out on their own make believe adventures.
A pirate ship playhouse is another winner in terms of its design, functionality, appeal, features and exciting way for kids to have a wonderful pretend and imaginative play in the outdoors.
Make your kids look forward in playing in these awesomely made outdoor pirate ship playhouses everyday!